If you can't get up from bed and sit in front of your computer to blog, WordPress.com has the perfect solution for you. You can manage your blog using SMS messages, via new 77377 (PRESS) shortcode. Life cannot get easier than this… isn't it?
WordPress.com is offering two types of Text Messaging Services features:
Free Features:


For no additional cost, you can receive text notifications when the following changes occur on your blog:
Users are added or removed
The theme changes
The privacy settings change
Upgrade Features: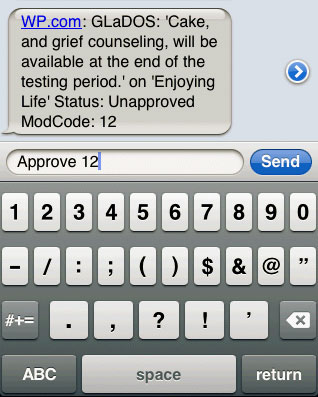 For ultimate control over your blog while on the go, check out the features you get with the Text Messaging upgrade:
Protect your blog by using a two-step login process. A text message will be sent to your phone upon login with a passcode that must be entered in order to access your Dashboard.
Get notified of new comments and moderate them on the spot with a simple text reply. You can also send in a reply to comments you receive.
Get a notification when a post is published on your blog.
Need to post something short and sweet right away? You can fire off a text and a new post will be added to your blog instantly.
The upgrade is available for just $20 per year. To purchase, select "Upgrades" while on your blog Dashboard and then select "Text Messaging". Note: Currently available in the USA only. Standard text message and data rates apply.
How to activate
Ready to get started? From your dashboard, click the "Text Messaging" link under the "Settings" tab to register your phone number with the service. After activating, you can select the Text Messaging features that you would like to use for your blog.
Full instructions for using the Text Messaging service are available at http://en.support.wordpress.com/text-messaging
DO YOU NEED OUR HELP?
Contact our experts
, most of the time we assist our readers
free of charge
.
Those who found this page were searching for:
+"wordpress text message" +process
wordpress post using text messaging
remove powered wordpress
blogging by text
wordpress text message theme
wordpress text message theme
how to post to blog from text messages wordpress
wordpress receive text message
wordpress post using text messaging