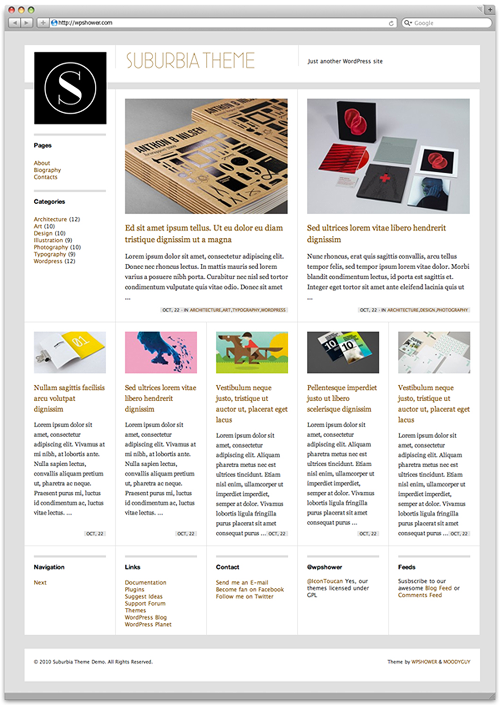 Today we'd like to introduce you a new free premium wordpress theme called Suburbia. This theme was made in cooperation with Demian Peeters who is also known as Moodyguy. Couple of words on the theme itself. Suburbia is a clean and flexible WordPress grid-based magazine theme designed in a modern and minimalist style. This theme is also suitable for blogs and misc. projects. Suburbia supports all WordPress 3.0 features and gives you an extra flexibility in every single step you make.
Key Features:
Valid XHTML Strict and CSS
Clean, minimalist, grid based layout
Widget Ready
Search Engine Optimized
Theme Options page
Logo uploader
Clean typography
Browser compatibility: All Major Browsers
Favicon Ready (just overwrite the browser icon with your own)
DO YOU NEED OUR HELP?
Contact our experts
, most of the time we assist our readers
free of charge
.
Those who found this page were searching for:
magazine based wordpress
free grid wordpress theme
create grid text wordpress aggregator
free magazine grid
wordpress grid magazine theme#q=wordpress grid magazine theme
grid based#sclient=psy-ab
wordpress free theme
grid based wordpress themes
grid wordpress theme 1.1
wordpress theme free