If you are following the updates of WordPress vs. Thesis wars, I guess you already know that the war is over. Today Chris Pearson(@pearsonified) ended the war adopting split GPL for his popular WordPress Theme, Thesis.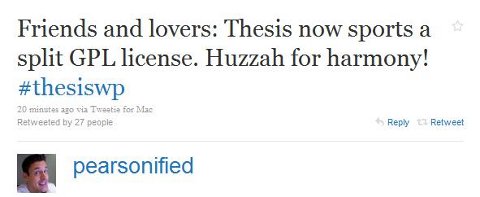 Pearson's decision marks the end of a high-drama clash between him and Matt Mullenweg(@photomatt), the founder of WordPress and of Automattic, which runs WordPress.com and a handful of related software. Some folks wondered if the battle of words might end in a battle of legal precedent as Mullenweg struggled to preserve free software principles and Pearson struggled to maintain control over his highly successful software.
Split GPL allows Chris to maintain control over his product while at the same time stay in line with the WordPress as @jschuller explained. You can read more about the saga from Mashable, Matt's blog and Chris blog.
[Disclaimer: WP Rockers is powered by WordPress and Thesis Theme. We owned a developers license.]
DO YOU NEED OUR HELP?
Contact our experts
, most of the time we assist our readers
free of charge
.
Those who found this page were searching for:
wordpress thesis war
thesis wordpress war
thesis wordpress vs twenty eleven
powered by wordpress intitle:"thesis"
postimage
google plus share link